Belt-Winding Cores – entire industries revolve around them
Since 1955, Souhegan Wood Products has been a global leader in the production and distribution of winding cores. Also known as extruded shells, our rugged cores provide unrivaled strength and internal support for a broad range of rubber and industrial belt as well as woven and non-woven textiles during winding, unwinding, and transport.
SWP STANDARD CORES
The strong, reliable backbone of industries around the globe
Sturdier than lumber or cardboard and lighter than steel, Souhegan Wood Products compressed wood particle cores have earned best-in-class status as the preferred core for the belt-winding industry. Our purpose-built cores are designed to transition easily through manufacturing, shipping, and installation – benefiting your bottom line and exceeding your expectations.

SWP CORE STRENGTHS
Resist splitting
Tremendous crush strength
High impact resistance
Lightweight
Easy to implement
Cut to desired length
Materials can be quickly attached and wound at high speeds
Suitable for sustained use
Can be custom manufactured
(e.g. variable lengths, diameters, hole configurations)
Can be used as-is or enhanced
PAPER-WOUND
Versatile, high-strength reinforcement

KEY FEATURES
Solid paper tube sheath around standard core
Variable tube thickness to meet your application's target strength
Adds beam and hoop strength without added weight
Clean, dust-free surface
Gives core a finished, presentable appearance
BEST FOR
Mid- to heavy-weight belting
Woven and non-woven textiles
Dust-sensitive products and facilities
Repeat core use
WOODEN STAVES
Strength that rivals steel

KEY FEATURES
Laminated custom-cut wood staves
Won't damage winding bars like steel can
Added beam strength and durability
Greater axial compressive strength
Patented design
BEST FOR
Demanding situations
Mid- to heavy-weight belting
In-field use
Repeat core use
METAL END CAPS
Reinforcement for repeated use

KEY FEATURES
Increased durability
Protects core from abrasive and compressive damage
Cap depth customizable from 1 to 4 inches
Does not impede bar insertion
Can be added to paper-wound and staved cores
BEST FOR
Prolonged in-house use
Cores spun on a journal or roller cradle
Product stored on an end-support rack
Chain-down trailer transport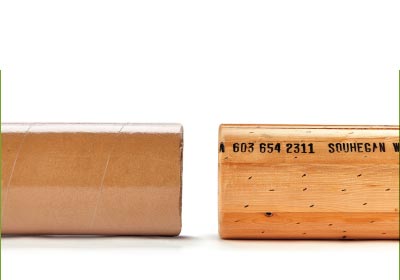 COATED FINISH
A smooth, dust-free seal

KEY FEATURES
Creates a clean surface, free of dust and particles
Provides a more finished appearance
Can be applied to paper-wound or staved cores
BEST FOR
Dust-sensitive products and facilities
Woven and non-woven materials
End-use customers that showcase product on the core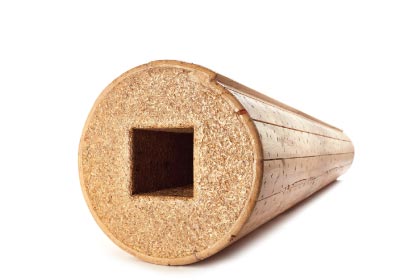 NOTCHED
Prevent belting damage and waste

KEY FEATURES
Patent-pending design allows belting to wrap flush against core
Reduces profiling-through of any susceptible rubber and textile materials
Reduces product waste
Favored by end-use customers
BEST FOR
Manufacturers – offer this money-saving option to your customers
Distributors – cut costs and waste
Winding heavyweight materials
CUSTOM CORES
Our engineers can also custom design and manufacture cores to meet specific-use demands (e.g., round holes, variable lengths).
Get your core knowledge to go.
Download our Belt-Winding Core brochure.